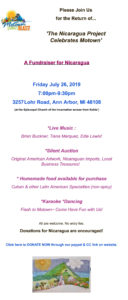 Because of political unrest in Nicaragua, many families are finding it even more difficult than usual to get food. Through your support and that of other organizations, we have been able to facilitate food distribution with the help of our partners in Nicaragua
.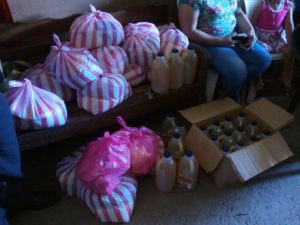 Your continued support will help us carry out this important mission.
Help us keep the momentum going.
Every little bit helps.
The Nicaragua Project is a project of Capital to Bridge the Divide, a 501 (c) (3) organization
If you are a Facebook user, please consider the "Giving Tuesday" option on our Facebook on Nov. 28th. Facebook and Paypal are matching donations with no fee, for eligible non-profits up to $7 million.
Thanks to all who helped out at our October 19 Friend Raiser Event!
A special shout out to the wonderful musicians:
Sam Clark: Sam also plays in the Spirit Singing Band. Follow this link to hear some of their music.
Brian Buckner: Keep your eyes open for his next theatrical venture. He just finished his role in Wild Party at the Dio in Pinckney.
Edie Lewis: Edie sings with several other groups, including the Ann Arbor Chapter of the Threshold Singers.
Tiana Marquez: Tiana has recorded several CDs. See her website for details.
AND..thanks to all those who shared their wonderful stories!