Thanks to all who made our July 26, 2019 Motown Event a success!!!
Special kudos to our musicians:
Brian Buckner: He was nominated for a 2019 Wilde Award for Best Musical Direction (Songs About Stuff, Flint Repertory Theatre). He will be Musical Director for Follies in Concert, Theatre Nova, November 7-17, 2019.
Edie Lewis: Edie sings with several other groups, including the Ann Arbor Chapter of the Threshold Singers.
Tiana Marquez: Tiana has recorded several CDs. See her website for details.
And thanks to the many Karaoke participants.

.
Thanks also to local businesses that helped out:
Pilar's Tamale Shop (fantastic fried plantains for our food table and a gift certificate for our silent auction)
Pita Pita in Ypsilanti (delicious rice pudding)
Hagopian World of Rugs (gift certificates)
Alicia Botti, Ameriprise Financial Advisor (gift basket)
Mary Eldridge (note cards)
My Garden of Earrings (jewelry set)
Finally, thanks to all who attended, donated, bought, sang, danced, and helped run the event! We are looking forward to your joining us for our fall fundraiser. Details will be announced soon.
Because of political unrest in Nicaragua, many families are finding it even more difficult than usual to get food. Through your support and that of other organizations, we have been able to facilitate food distribution with the help of our partners in Nicaragua
.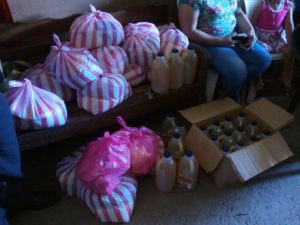 Your continued support will help us carry out this important mission.
Help us keep the momentum going.
Every little bit helps.
The Nicaragua Project is a project of Capital to Bridge the Divide, a 501 (c) (3) organization